For the best results we HIGHLY recommend using a good set of headphones or better than built-in computer speakers. Muffler sound is all about BASS. Cell phones and built-in computer speakers will not give you the true experience of the Muffler sound.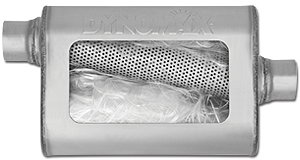 Dynomax® Ultra Flo™ Welded performance stainless steel mufflers feature 100-percent welded construction for lifelong durability. The unrestricted, straight-through design dyno proven to flow up to 2,000 SCFM and support up to 2,000 horsepower. Each muffler uses our exclusive Continuous Roving Fiberglass (CRF) Technology to absorb unwanted interior resonance while maintaining a deep performance tone.
HEAR IT
ULTRA FLO™ WELDED MUFFLER
Part Number 17218
*Please allow 3 - 5 seconds depending on download speed.
**If you cannot play the above sound please click the link below to hear through an alternate method.
DOWNLOAD MP3
*Sound clips generated from a 2010 Chevy Camaro SS on a cat-back system with 2.5" diameter pipes and 2.5" DynoMax mufflers.
FEATURES
Stainless steel construction for lifelong protection
100-percent Welded design for maximum durability
Dyno proven to flow up to 2,000 SCFM and support up to 2,000 horsepower
Straight-through design ensures unrestricted exhaust flow and reduces back pressure
CRF Technology absorbs unwanted interior resonance while maintaining a deep performance tone
CLICK HERE FOR MORE INFORMATION ON THIS MUFFLER